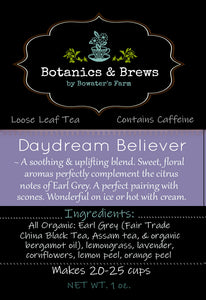 ~ A soothing & uplifting blend. Sweet, floral aromas perfectly compliment the citrus notes of Earl Grey. A perfect pairing with scones. Wonderful on ice or hot with cream. 
Taste: sweet, floral, citrus
Ingredients: All Organic: Earl Grey (Fair Trade China Black Tea, Assam Tea, & Organic Bergamot Oil), lemongrass, lavender, cornflowers, lemon peel, orange peel
Disclaimer: Our product & statements have not been approved by the FDA. This product is not intended to diagnose, treat, cure, or prevent any disease. Contact your doctor if you are pregnant, nursing, have a medical condition, or are taking medication.
Available for shipping, pick up at farm or pick up at Broad Ripple Winter Market, Indy Winter Farmer's Market, & Northview Church (Binford Market location) on scheduled weekends